Ten Second Review
Audi offers plenty of coupe options these days but the second generation A5 line-up makes the most real-world sense. Most A5 Coupe customers choose the 190PS 2.0 TDI variant we're looking at here. And you can see why. Efficiently is now much improved and the car looks even sleeker these days. If you can afford one, you'd like one.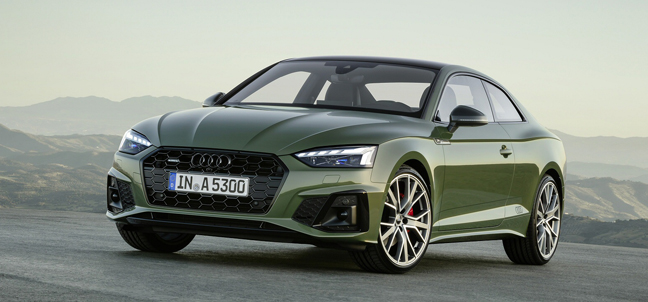 Background
The Audi A5 Coupe gets larger, more sophisticated, sleeker and more efficient in this improved version of the second generation design. Most purchasers choose the 2.0 TDI diesel 190PS '40 TDI' version and as usual, there's the option of quattro 4WD. Like its predecessor, this car is based on the platform of Audi's A4 saloon, a rather sophisticated platform as it happens, the MLB Evo underpinnings able to trim up to 60kgs from the kerb weight in comparison to the previous model. The suspension set-up is firmer than you get in an A4 though, which should make this A5 feel sportier and better able to face down its arch-rivals, coupe versions of BMW's 4 Series and the Mercedes C-Class.
Driving Experience
So what's it like to drive? Decently rapid is the answer. 62mph from rest takes under 8s on the way to around 130mph, with the quattro version enabling you to match that kind of performance in the wet. But does this car handle as well as its BMW 420d Coupe arch-rival? Well, not quite as well. The Audi doesn't have rear wheel drive for a start. But this A5 gets remarkably close to its Bavarian competitor and the suppler ride you get with this Audi (providing you don't burden it with huge wheels and stiff suspension) will be preferable for many. You can improve it further by specifying a 'chassis with damper control' set-up, allowing you to match the ride to the road you're on and the mood you're in.
Audi also point out that this car offers the option of a quick-reacting quattro four-wheel drive system, tempting indeed given our wintry climate. Normally, this system distributes the engine's power primarily to the rear but if necessary, can redistribute torque towards the front at lightning speed. It's all technology developed to be convincing to potential 4 Series Coupe buyers, though personally, I wouldn't get too carried away with BMW comparisons. In many ways after all, the slightly more relaxed and luxury-orientated Mercedes C-Class Coupe is closer in concept to this car.
It's certainly with one eye on this model that Audi has tweaked the roadgoing experience in this MK2 model A5. You can improve it by paying extra for 'dynamic steering', but it might be better to simply get to grips with the standard 'Drive Select' system which tweaks steering feel along with engine management, auto gearbox response - even the air conditioning - in line with your choice of 'comfort', 'auto', 'dynamic' or even 'efficiency' modes.
Design and Build
Think this improved second generation A5 coupe doesn't look much different to its predecessor? Look again. The exterior has actually been significantly revised, with the front end in particular, delivering considerably more visual impact. The Singleframe honeycomb grille is wider and flatter, and above it ventilation slits reference the classic Audi Sport quattro from 1984. A bold blade forms the lower edge of the bumper, which features larger air inlets. A new sill provides for a slimmer appearance when viewed from the side, while at the rear a diffuser insert with trapezoidal tailpipes makes the car appear wider.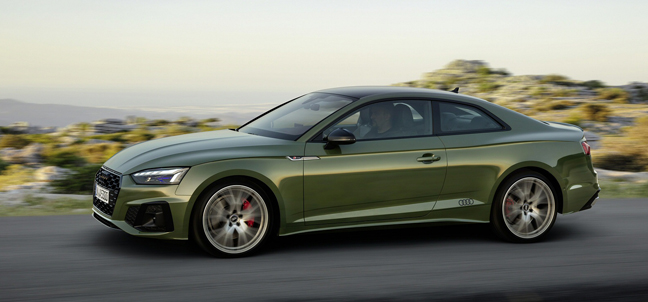 Horizontal lines also dominate the interior of these improved A5 models. The large MMI touch display, the control centre of the car's redesigned operating system, is the focal point of the instrument panel and angled slightly toward the driver. It offers a user experience similar to a contemporary smartphone via a 10.1-inch touch display with acoustic feedback which replaces the rotary pushbutton used in previous models. Like all the latest Audis, this one gets the brand's 'Virtual cockpit' instrument binnacle, a 12.3-inch TFT display that replaces the conventional dials. Out back, the boot's well sized, offering a volume of 465-litres, more than you get in BMW and Mercedes rivals. The rear seat has a 40:20:40 split and can be easily folded forward using levers in the luggage compartment. Audi also offers an optional gesture control system for opening the luggage compartment lid via a foot motion.
Market and Model
You'll need a budget of around £39,000 for this A5 Coupe in 190PS 40 TDI guise. There are four trim levels, 'Sport', 'S line', 'Black edition' and 'Vorsprung'. The 7-speed S tronic auto gearbox comes included. And your Audi Centre will offer you the further option of finding another £1,500 for quattro 4WD. For this kind of money, you'll want to find your car to be decently equipped and it will be. Among the features included are xenon headlights with LED daytime running lights and LED rear lights, LED interior lights, the Audi 'MMI radio plus' with a 7-inch MMI colour display, Bluetooth, a USB charging function, a three-spoke multifunction steering wheel, the Audi drive select dynamic handling system and Audi 'pre sense city' autonomous braking. Audi is particularly proud of its media connectivity, specifically the 'connect' system that can link to the Internet via the ultrafast LTE network.With the standard Audi smartphone interface, Apple Car Play and Android Auto bring the familiar smartphone environment to the car, if desired. The optional Audiaphoneabox with wireless charging in the centre armrest uses near-field coupling to link smartphones wirelessly to the vehicle's antenna.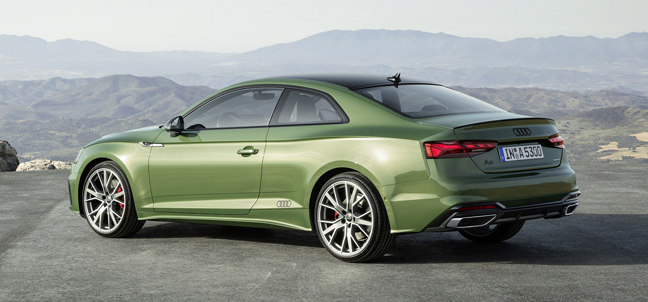 Safety provision runs to all the expected airbags, anti-whiplash head restraints and isofix child seat fastenings, as well as electronic driver aids for braking, traction and stability control. Once nice feature that's standard across the range is a 'break recommendation' system that monitors your driving reactions and will prompt you to stop for a restorative coffee if necessary.
Cost of Ownership
The 60kg weight saving achieved with this MK2 model plays a big part in the claimed 22% efficiency savings achieved this time round, despite the increases in power delivered beneath the bonnet. In fact, the body is the lightest in the competitive field thanks to an intelligent mix of materials and lightweight design. It also helps that with a drag coefficient of 0.25, the A5 Coupe is the segment leader with respect to aerodynamics. As a result, this 40 TDI diesel variant with s tronic auto transmission is able to deliver 62.8mpg on the WLTP combined cycle and 118g/km of CO2 (NEDC).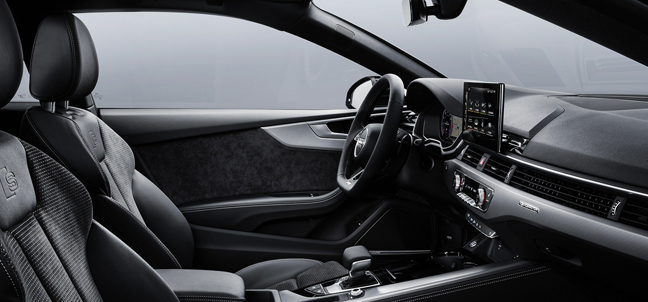 Of course, the driver will have to do his or her part. Helping here is the clever 'Predictive efficiency assist' system that could potentially improve your fuel economy by as much as 10%. It works with the Navigation package and analyses any given route, once set, to decide how the journey could be undertaken more efficiently, taking into account things like the speed limits, traffic signs, bends and roundabouts you'll be encountering along the way. The set-up then offers driving tips that'll help you achieve that: perhaps, for example, a junction is out of your sight around the next bend and you could take your foot off the accelerator a little earlier. Get onto the motorway and with the optional Adaptive Cruise Control system activated, 'Predictive efficiency assist' will automatically make all the frugal driving adjustments for you. If it knows you're going to be travelling for a few junctions, it'll even disengage the engine at cruising speeds for greater efficiency, then re-engage it immediately and almost seamlessly when you either accelerate or brake.
Summary
It's tough to imagine a coupe that's an easier sell to a sceptical partner. The build quality, the residual values, the economy, the refinement and the restrained styling all combine to make this 190PS Audi A5 Coupe 40 TDI a two-door for customers who wouldn't normally get away with such a thing. Read between the lines and you may come away with the impression that this also puts it at the wrong end of the excitement versus dullness continuum but this car has so much overtaking muscle that you shouldn't get bored.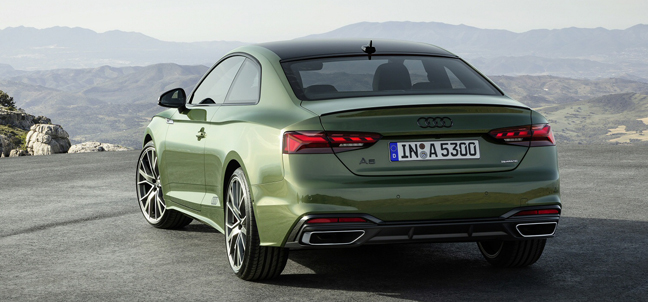 Objectively there is very little to criticise. This revised MK2 model A5 is marketed cleverly, beautifully finished, well-equipped and will also work out comparatively affordable to run once the purchase price has been swallowed. Overall, an A5 40 TDI hides its juvenile side very well. Are you quite as accomplished?